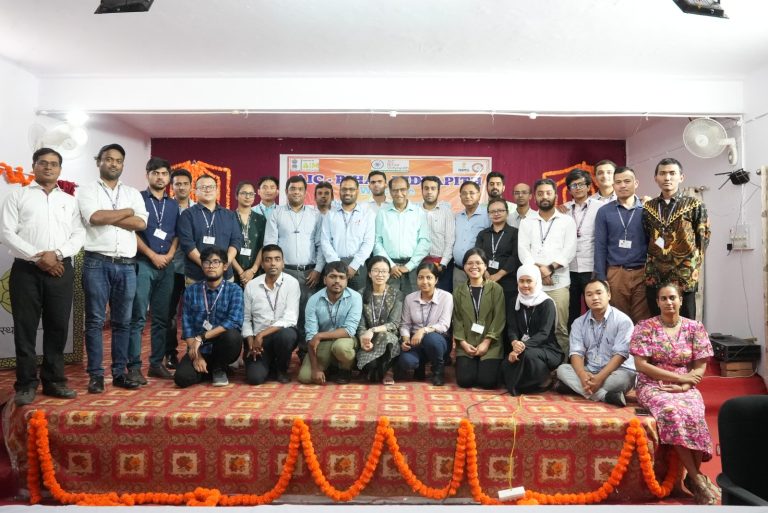 Hosted a group of students from Nalanda University Rajgir, where students took part from different countries like Nepal, Bhutan, Bangladesh, Vietnam, Indonesia, Laos, Thailand as well as India. Providing them with a captivating overview of Bihar's rapidly growing Start-up Ecosystem and showcasing innovative initiatives being leveraged through Food processing , Packaging and Innovative Manufacturing sector.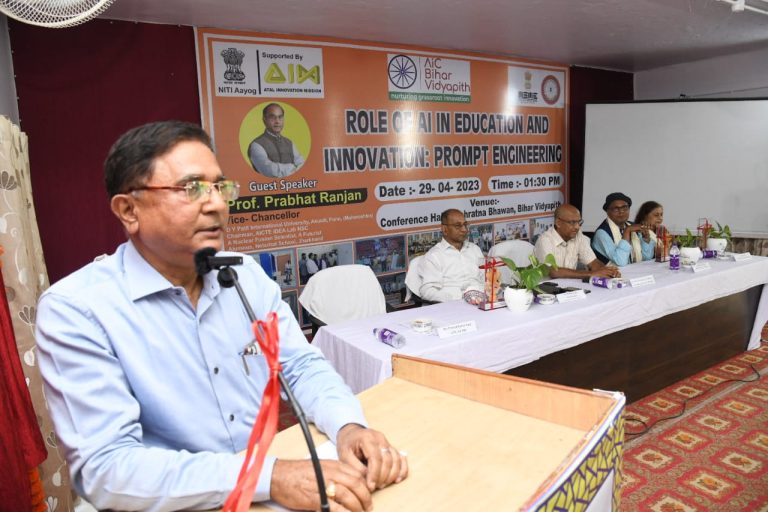 We're thrilled to share that Prof. Prabhat Ranjan, the Vice Chancellor of D Y Patil International University, Akurdi, Pune, delivered keynote address at AIC Bihar Vidyapith. He discussed the importance of AI in Education and Innovation with reference to print Engineering. The event was a resounding success, with attendees praising the high-quality presentations and engaging discussions. We're proud to be a part of such a vibrant academic community where events like these provide invaluable opportunities to learn and grow. Large number of startups and youth were present.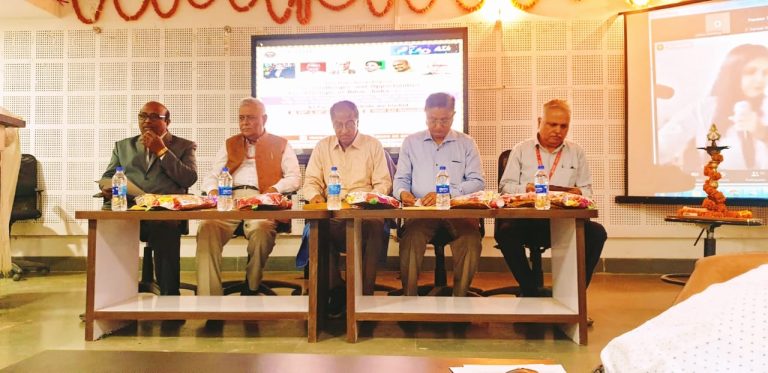 Sri Vijoy Prakash, Chairman cum CEO of AIC BV Foundation, discussed on the Topic "Entrepreneurship- The basic inputs, schemes for entrepreneurship development and challenges, opportunities for startups in Bihar, India." and Sri Pramod Karn, COO , AIC BV Foundation discussed on the Topic "Startup ideas, profiles of new and successful entrepreneurs and their ventures in Bihar, India", among the UG and PG Students of Sandip University, Sijoul, Madhubani Bihar. Sri. Samir Kumar Verma, Vice Chancellor of Sandip University, Sijoul, Madhubani , dean and faculty members and more than four hundred students were present in the event.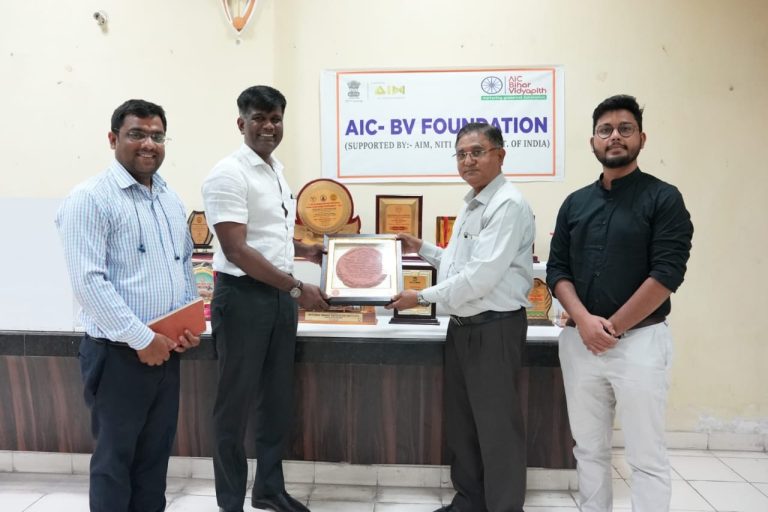 Possible Collaboration between T-Hub, Hyderabad and AIC-BV Foundation, Patna, Bihar, were discussed with Chief Delivery Officer Wing Commander Anish Anthony of T-Hub and Mr. Pramod Karn, COO, AIC-BV Foundation. Both Incubators have discussed the possible areas of collaboration, such as sharing resources, joint projects, hosting joint events and industry connect. It was a fruitful meeting.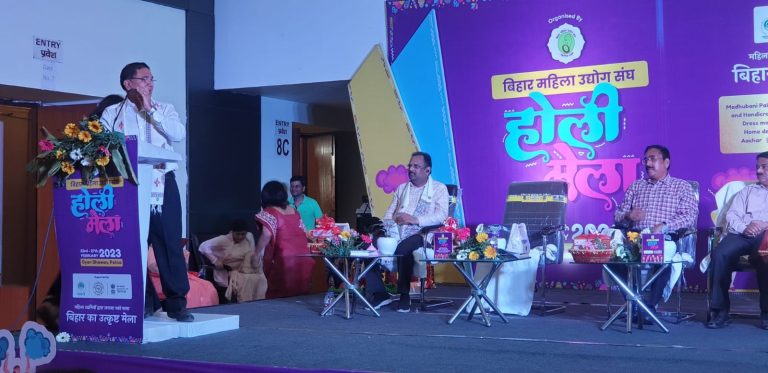 Got a recognition at Holi Mela by Smt. Usha Jha President, Bihar Mahila Udyog Sangh (BMUS). Shri Pramod Karn, COO, AIC Bihar Vidyapith was felicitated for supporting the women lead startup.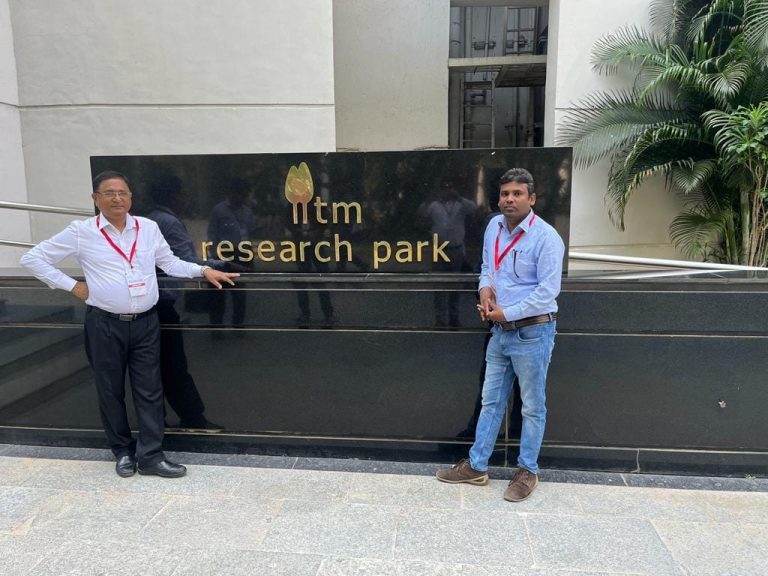 Mr. Pramod Karn, COO and Dr. R. Ranjan visited IIT Madras Research Park and attended an enthusiastic lecture by Padma Shri Prof. Ashok Jhunjhunwala and Mrs. Shruti Singh, Joint Sec., DPIIT on "What makes Tech Incubator successful."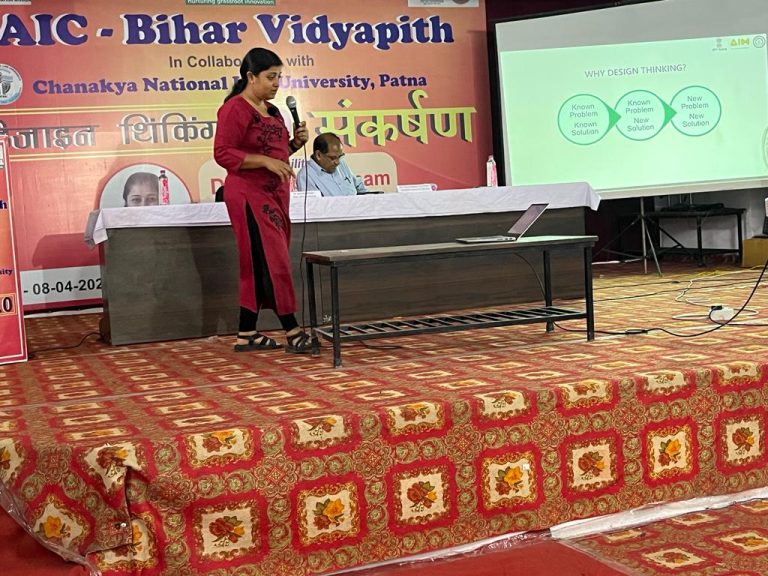 Organized a One-Day workshop on "Design Thinking" . The resource person was Dr. Surabhi Sonam, Associate Prof. D.Y Patil International University, Pune.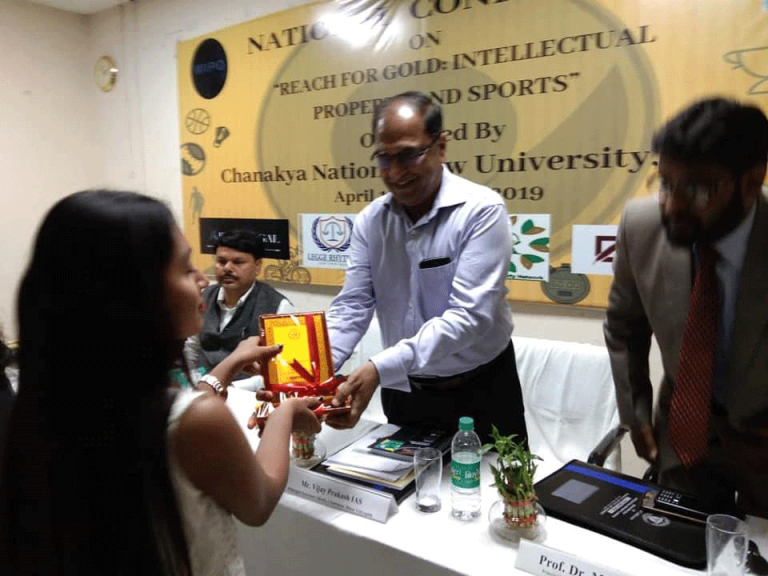 Shri Vijoy Prakash (IAS Retd.),Chairman Cum CEO, AIC - BVF was honoured to be a Chief Guest in National Conference on "REACH FOR GOLD : INTELLECTUAL PROPERTY &SPORT " at Chankya Law University, Patna (Bihar )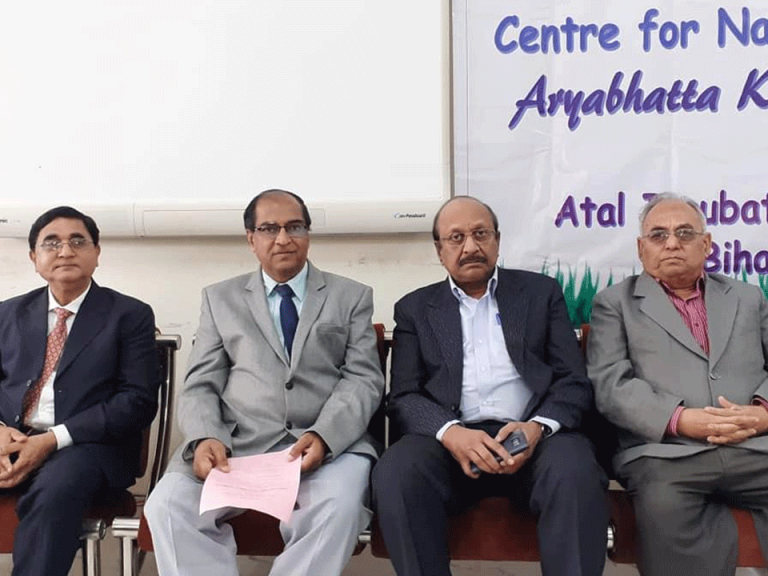 Strengthing Start -up ecosystem MOU has been signed between Atal Incubation Centre, Bihar Vidyapith and Department of Nano Science and Nano Technology, Aryabhatt Knowledge University, Patna ( Bihar ) dated on 18 th January 2020 as" Knowlege Partner".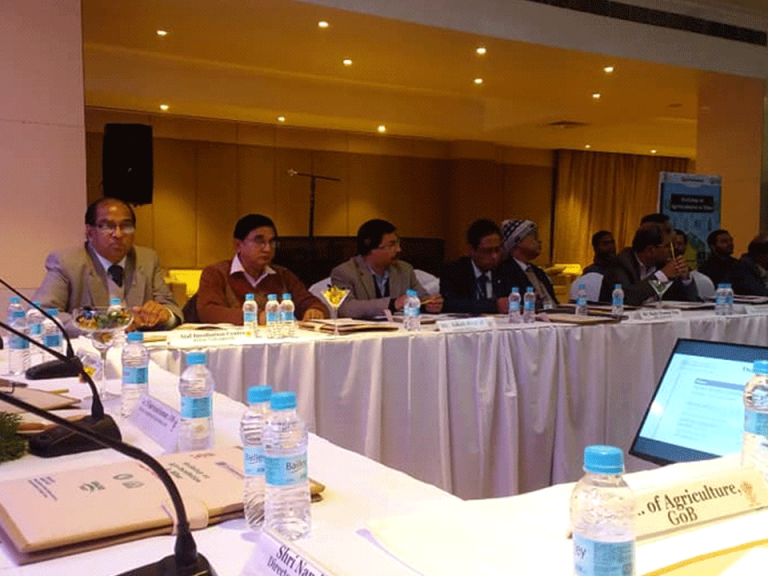 Shri Vijoy Prakash ( IAS Retd ) Chairman Cum CEO, Shri Pramod Karn, COO ,AIC - BV had Participated in "Workshop on Agri - Incubation in Bihar "on 21st January 2020 at Hotel Lemon Tree Premiere, Patna organised by BARI-TAST,Dept.of Agriculture, Govt.of Bihar.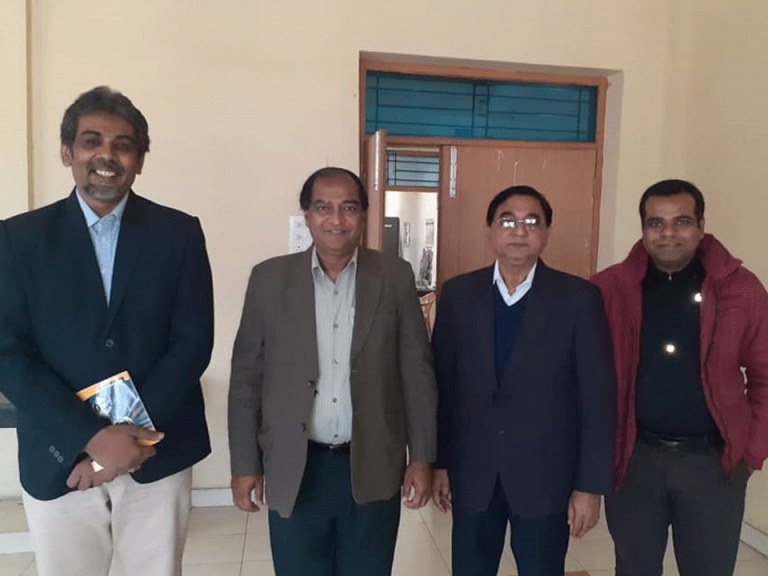 Meeting with Packaging Clinic and Research Institute(PCRI), Hyderabad under the chairmanship of Shri Vijoy Prakash (IAS Retd.),Chairman Cum CEO, AIC - BV & attended Founder and CEO,PCRI,Prof.B.K.Karna,Shri Pramod Karn, COO, AIC, Shri Amod Kumar and Ashish Bhaskar to finalised MOU for establishment of Institute of Packing (IOP).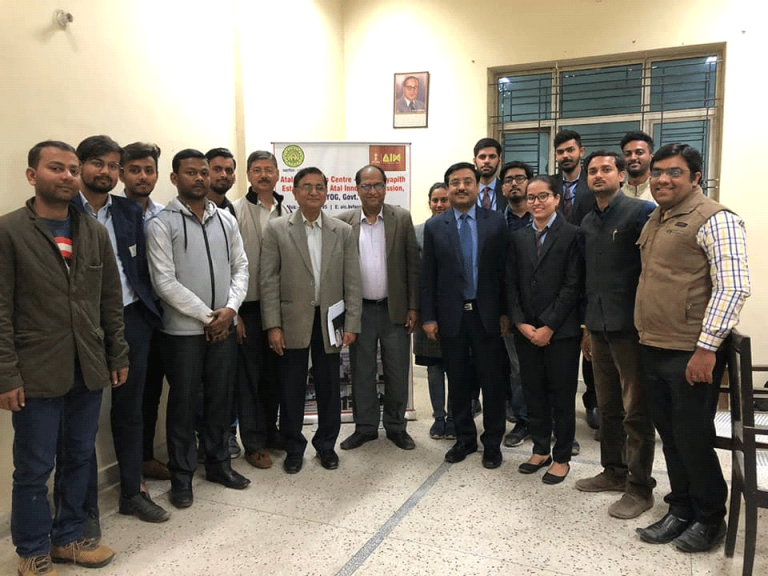 Very rich experiences to interacted with Young people with very pragmatic Business ideas for Start up under the mentorship of Shri Vijoy Prakash (IAS Retd. ) Chairman Cum CEO AIC - BV ,Dr.Vivekanand Pandey, Pro VC. Amity University, Patna and Shri Pramod Karn, COO, AIC -BV. A to Z facilitation and support will be provided by AIC-BV to become Entrepreneurs.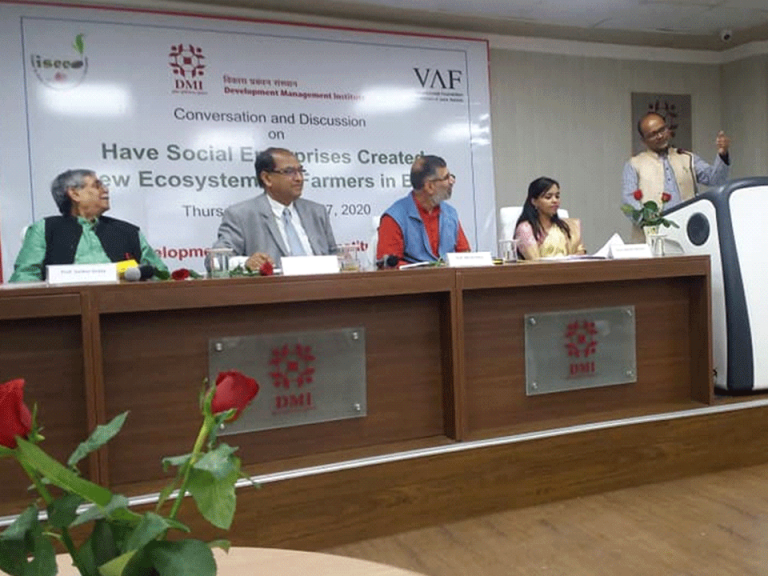 Social Entrepreneurship -Ecosystem discussions on " Have Social Entreprises Created a new Ecosystem for Farmers in Bihar " Chairman Cum CEO AIC BV Sri Vijoy Prakash (IAS Retd. ) was the Chief guest at Development Management Institute.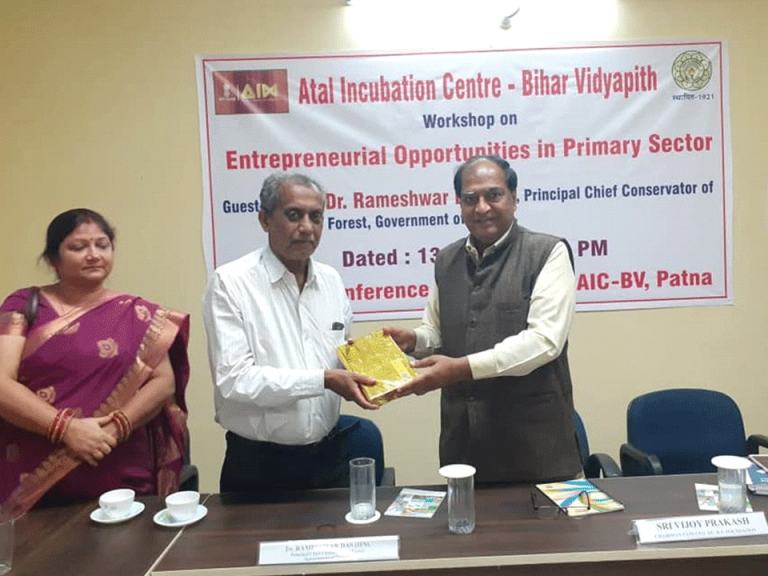 Entrepreneurial opportunities in Pisciculture, Aquaculture and other primary sector oportunities in a presentation by Dr.Rameshwar Das, IFS, PCCF, Govt.of Tripura in a workshop on" Entrepreneurial Opportunities in Primary Sector " organised on 13.3.2020 at AIC-BV.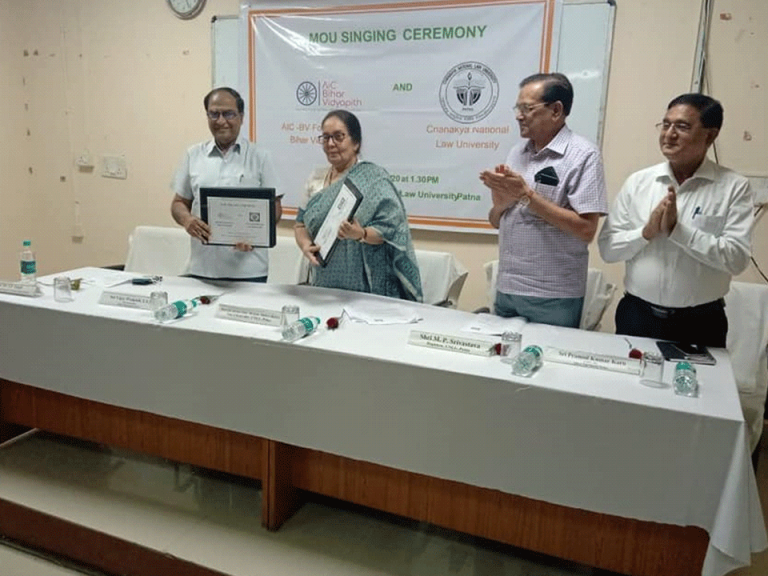 A milestone set towards strengthening of startup ecosystem in Bihar. Atal Incubation Centre Bihar Vidyapith signed an MoU with Chanakya National Law University. This knowledge collaboration is all set to define newer heights.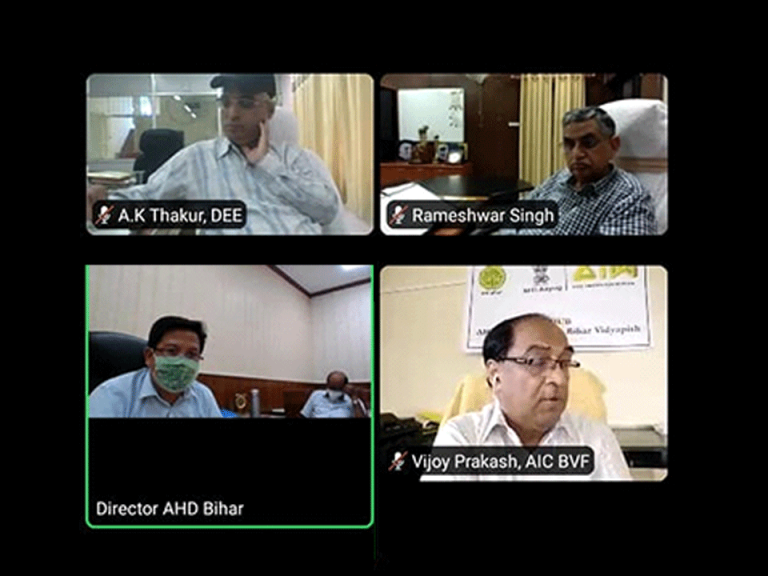 A five days ENTREPRENEURSHIP DEVELOPMENT PROGRAMME ( GOAT REARING ), From 15th to 19th sept 2020. This session had highlighted the importance of commercial goat farming in creating employment and can be a game changer in rural economy.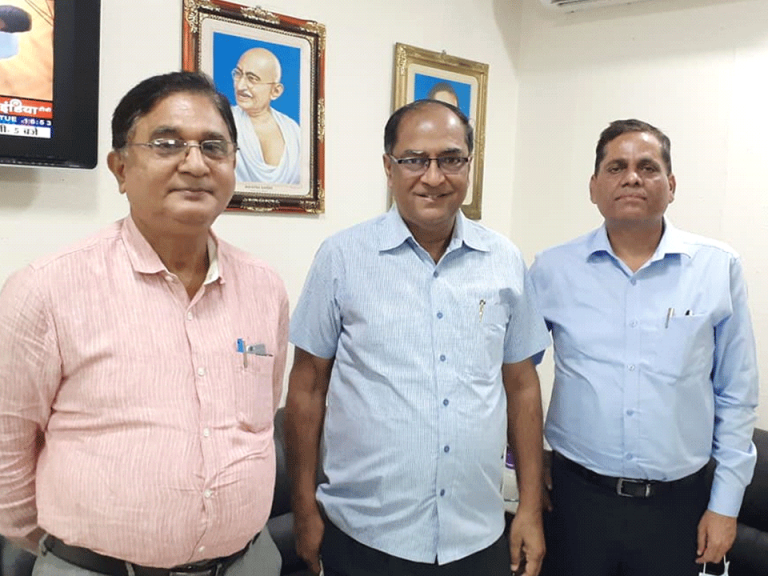 Very fruitful meeting with CGM NABARDDr.Shunil Kumar with Chaiman Cum CEO Shri Vijoy Prakash and COO Shri Pramod karn #Build start up eco system in Bihar # Be in Advisory Board of AIC-BVF #Support for pre-Incubation in Agri-Entrepreneurship.
MoU signing of Aqua Agro.
MoU signing of Bay Rock Cafe.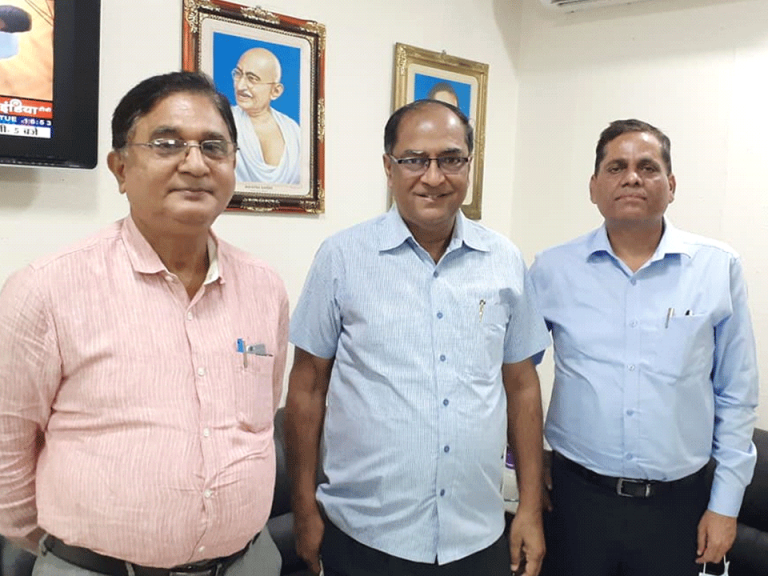 MoU signing of Bihar Innovation.
MoU signing of Mithinga Waste Manager.
MoU signing of Naubatpur Bikram Farmer Producer Company.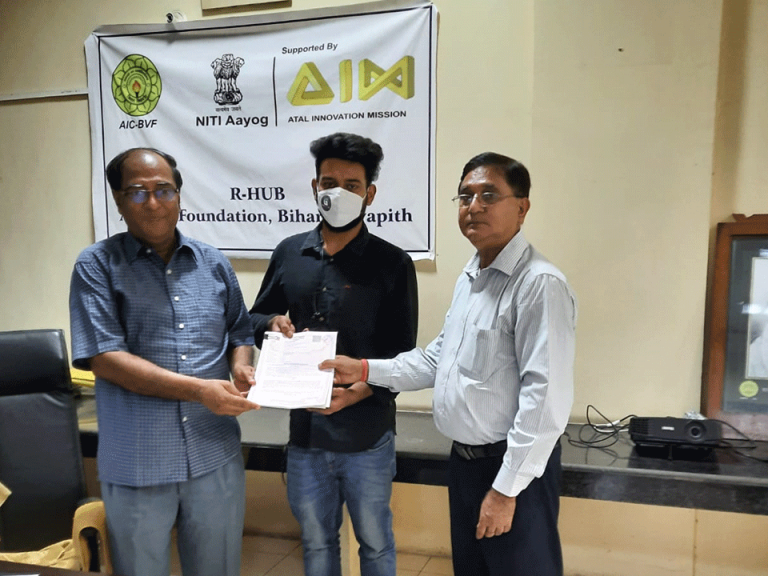 MoU signing of MIN-E-MOBILITY Technologies PVT. LTD.